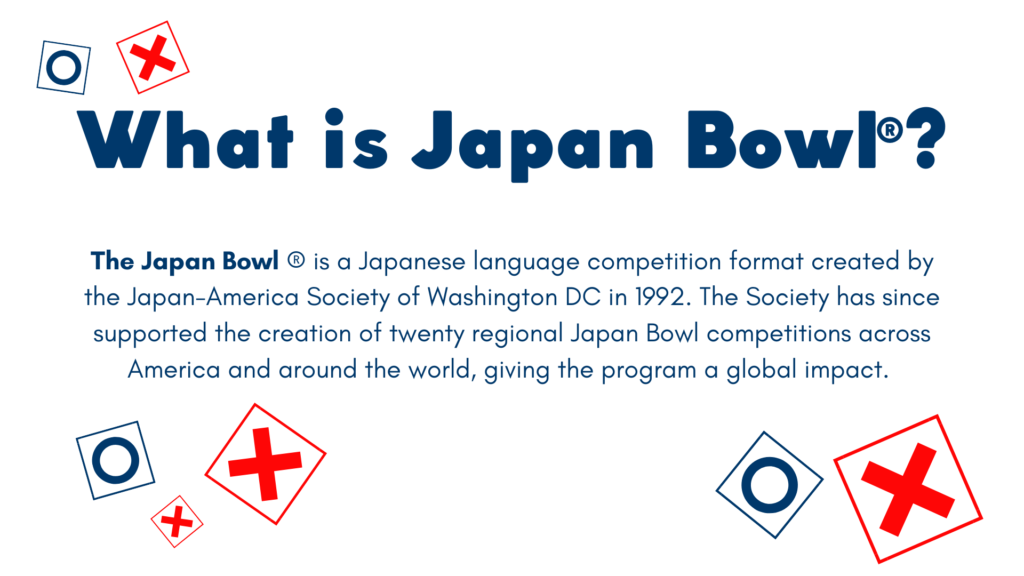 What makes the Japan Bowl® unique is that it goes beyond language and asks students about their knowledge of Japanese culture, society, daily life, history, geography, and current events.
The Japan Bowl® was first held as a local competition for high schools in the Washington DC area. Within a few years, high schools from other parts of the nation joined the competition in Washington, and it became the "National Japan Bowl."
In addition to the National Japan Bowl in Washington DC, there are Japan quiz bowl competitions throughout the United States. The newest official Japan Bowl competitions are in Illinois, Wisconsin, Utah, and California. There are now Japan Bowls in other counties such as the UK, Mexico, and Poland.
The Japan Bowl® seeks to motivate students to higher levels of academic achievement. It strives to impart the kind of real-world communications skills and cultural knowledge that will help students in their high school years and beyond. Most Japan Bowl participants say they plan to continue to study Japanese during their college years, and almost all hope to study abroad in Japan.
Japan Bowl® participants say they hope to have a "Japan connection" in their adult lives, whether in business, academia, the arts, or public service. No matter which profession they choose, the knowledge and skills they acquired as Japan Bowl competitors will help them become future leaders in the US relationship with Japan.
---
Ambassador John Malott, the former president of the Japan-America Society of Washington DC, is writing an in-depth history of the Japan Bowl® in three parts. Find part one here!